24 aug

6 High-Protein Snacks For Your Summer Road Trip




The best part of any summer road trip is the sense of freedom to go where you want to go, do what you want to do, and eat what you want to eat.

Wait. Scratch that last part. If you're killin' it in the gym and working hard toward your goals, it's important to keep your nutrition on track—even on a road trip. A little planning and prep is guaranteed to pay off by delivering healthy, protein-packed snacks you can eat on the road.
1. Roasted Chickpeas
When a craving for something salty and crunchy hits, you'll be glad you planned ahead. Instead of filling up the backseat with chips, cheese puffs, and pretzels, make up a big batch of roasted chickpeas for a low-sodium, protein-filled alternative. Just cook the chickpeas (aka garbanzo beans) in advance, pack them up in baggies, and chow down when you need a fix. No refrigeration required.
"Chickpeas are part of the pulse family—superfoods that are high in protein and low in calories," says Natalie Rizzo, MS, RD, a dietitian and blogger based in New York City.
This recipe is pretty much perfect for summer cruising.
Ingredients
Chickpeas (garbanzo beans), One 15-oz. can
Vegetable oil, ½ tsp
BBQ seasoning, 1 tsp
Directions
Preheat oven to 375 degrees F.
Rinse and drain chickpeas. Pat dry.
Combine all ingredients in a bowl and mix well.
Spray a baking sheet with cooking oil before spreading chickpeas evenly on the pan.
Bake until crispy, approximately 30-35 minutes.
Print The Recipe!
2. Peanut Butter and Banana "Sushi"
Anyone can make a sandwich, toss it in a baggie, and call it road food. But holding a sandwich and a steering wheel when you're navigating curvy highways and byways can be a challenge.
Lauren Harris-Pincus, MS, RDN, the owner of Nutrition Starring You, has a quick-and-easy solution: Wrap peanut butter and banana in whole-wheat flat bread, then slice it into sushi-like pieces. The result is mess-free, bite-sized slices you can easily grab with one hand, without taking your eyes off the road.
And, since Harris-Pincus' recipe calls for powdered peanut butter, why not amp things up a little with a chocolate-infused variety? There are few flavor medleys better than chocolate, peanut butter, and banana.
Ingredients
Directions
Mix powdered peanut butter and water in a bowl. Stir, adding water a quarter teaspoon at a time until the peanut butter is your preferred consistency. You may want it a little more on the sticky side than the runny side to prevent dripping.
Spread peanut butter on the middle of the flat bread or wrap, saving about a teaspoon.
Place the banana on the peanut butter, then roll it in the wrap. Use the remaining peanut butter to help seal the open end of the wrap.
Slice the wrap into bite-sized pieces that look a bit like sushi. Store in a plastic container until you're ready to eat. You may want to use toothpicks to keep the "sushi" intact and to make each slice easier to grab while on the go.
Print The Recipe!
3. Bacon and Apple Egg Muffins
If you haven't tried whipping up a batch of egg muffins yet, you're long overdue. These little treats consist of eggs whipped up with other ingredients, then baked in a muffin tin to create protein-filled, hand-held snacks.
This recipe for bacon and apple egg muffins from Cate Ritter, a Functional Diagnostic Nutrition Practitioner and owner of Cate's Nutrition Kitchen, couldn't be tastier. You get all the best snack-time flavors (sweet, savory, and salty) all in a single package.
Ingredients
Bacon, 4 slices
Green apples, chopped into ½-inch chunks, 3
Cinnamon, 2 tsp
Eggs, 9
Coconut flour, 1½ tbsp
Coconut milk (or heavy cream), 3 tbsp
Baking soda, ¼ tsp
Sea salt, 1/8 tsp
Directions
Preheat oven to 350 degrees F.
Sauté the bacon until crisp on both sides. Remove from pan and set aside, but leave the grease.
Add the apples to the pan and cook with cinnamon for about 5 minutes. When they're golden brown, they're ready.
Whisk the eggs, flour, coconut milk, baking soda, and sea salt in a large bowl.
Distribute the egg mixture and apple mixture evenly in a standard muffin tin. Crumble the bacon evenly into the tins as well.
Bake approximately 25 minutes—you want the center to set. If you insert a knife or fork into the center, it should come out mostly clean.
Set aside and let rest for about 10 minutes. Remove muffins from tin and refrigerate. When you're on the road, keep them in a cooler.
Print The Recipe!
4. Protein Nutter Butter Balls
When what you're really craving is the sweet, chewy flavor of a protein bar, there's absolutely no reason to shell out $3 on a convenience store bar that's suspiciously close to its expiration date.
This recipe for protein nutter butter balls from Detric Smith, a strength coach, exercise physiologist, and the owner of Results Performance Training, tastes every bit as good, no baking required. Plus, it offers a balanced mix of proteins, carbs, and fats, which will help keep your energy levels stable.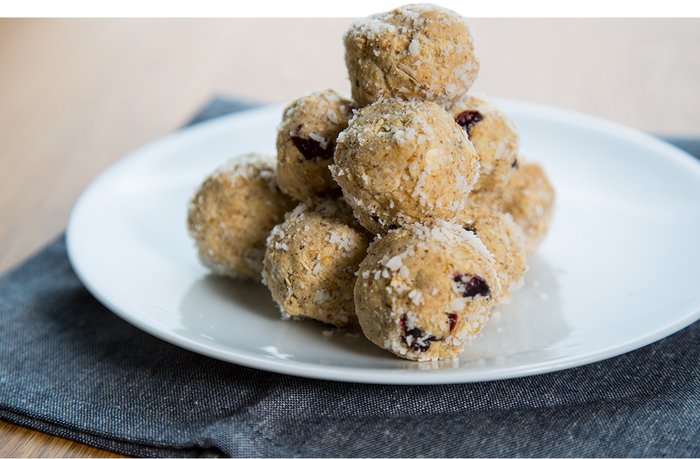 Ingredients
Vanilla protein powder, 2 scoops
Natural almond butter, ¼ cup
Raw oats, ¼ cup
Honey, 2 tbsp
Dried cranberries, 1 tbsp
Dried coconut flakes, 2 tbsp
Directions
Set the coconut flakes aside, but mix all the other ingredients together.
Form the mixture into bite-sized balls.
Roll the balls into the coconut flakes, coating them completely.
Chill in the refrigerator, and keep stored in a cooler when you're on the road.
Print The Recipe!
5. Creamy Tuna Dip
Another one of Detric Smith's favorite protein snacks offers a twist to your typical tuna salad, and it's a whole lot more appealing than eating forkfuls of tuna straight out of a can.
"Rather than using traditional mayonnaise to make tuna salad, I use fat-free cream cheese. It adds a unique taste and packs in more protein without the fat," Smith says.
The trick, of course, is storage—this is one recipe you need to keep cold! Prep it and store it in your refrigerator until it's time to leave, then keep it packed in an ice-filled cooler on the road.
When you're ready to chow down, use it as a spread or dip for your favorite crackers. Of course, if you're driving let someone else do the dipping and spreading for you.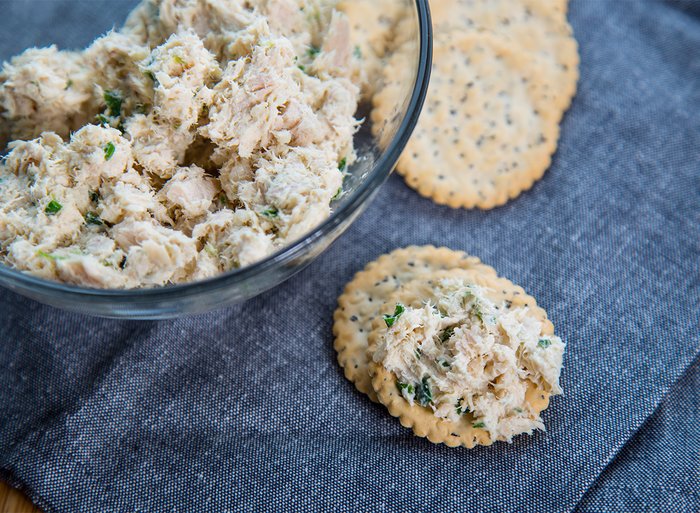 Ingredients
Tuna, one 3-oz. can
Fat-free cream cheese, 3 tbsp
Green onion, sliced, 1
Dried onion flakes, 1 tsp
Dried garlic (or garlic powder), ½ tsp
Whole-grain crackers, 5-10
Directions
Mix all of the ingredients together—except for the crackers. Really work to break up the tuna into smaller pieces so the dip is smoother and easier to spread. Chill in the refrigerator.
When you're ready to eat, use it as a dip or spread on your crackers.
Print The Recipe!
6. Prosciutto Chips
This is one of my favorite recipes for a quick snack that's part chip, part beef jerky, and all meaty goodness. Simply bake a couple batches in advance, throw them in a baggie, and hit the road.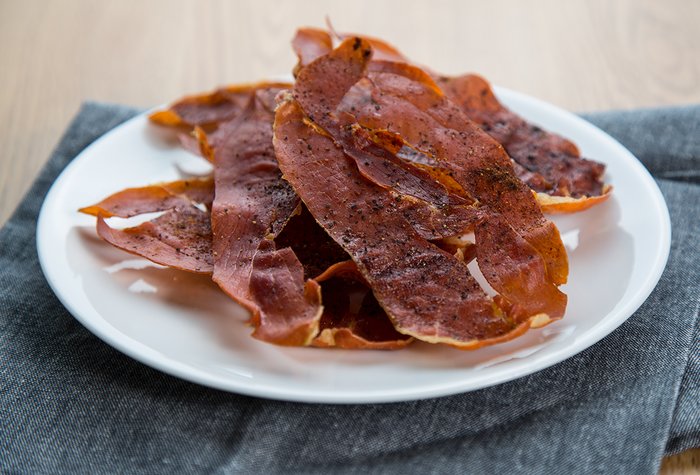 Ingredients
Prosciutto, fresh, thinly-sliced, 6 oz.
Fresh ground black pepper, ½ tsp
Cayenne pepper (optional), ½ tsp
Crushed red pepper (optional), ½ tsp
Directions
Preheat oven to 350 degrees F.
Line a baking sheet with parchment paper to prevent the prosciutto from sticking to the pan. Evenly place the prosciutto slices on the pan.
Dust the prosciutto with spices, as desired. Do your best to distribute the spices evenly.
Bake for 10-15 minutes, or until crispy. Transfer the prosciutto slices onto a cooling rack, and let cool.
Break into smaller, bite-sized pieces and enjoy.
Print The Recipe!